Welcome to the Victor and Valentino Wiki
893 Articles 1,745 Files 10,462 Edits
About the Show
This supernatural adventure comedy follows two half-brothers who spend a summer with their grandma in Monte Macabre, a small and mysterious town, where the myths and legends of Latin American folklore come to life.
Mischief, mayhem and Mesoamerican myths rule the day for Victor and Valentino. They are half-brothers from Monte Macabre, a small, mysterious town that they explore while simultaneously trying to appreciate each other's quirks and differences. While spending the summer with their Grandma Chata, the rambunctious Victor and the more cautious Valentino soon realize there's more than meets the eye in their new town. The mischievous pair hilariously discover other worldly beings, curious creatures from forgotten folklore, and places only described in myths.
Want to find out if the legend of the Chupacabra is real? Or explore a secret skatepark hidden in the jungle? Want to go on a trip to the underworld? Yeah you do! So come hang out with Victor and Valentino as these two brothers do all of this and much more in the supernatural town of Monte Macabre.
Starter Pages
Here are some starter pages to explore the world of Victor and Valentino, but make sure to browse any other page that you want to learn more about! Also make sure to talk about the show and the wiki in the comments of each page, create blog posts, and make edits to the wiki! Just stay appropriate, and have fun on the wiki!

Victor and Valentino (series)
Characters
Episode Guide
Sneak Peeks
MAIN
CARTOON NETWORK THIS YEAR
Poll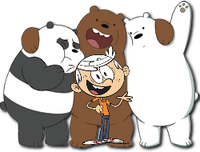 Community content is available under
CC-BY-SA
unless otherwise noted.